Savings lives... one at a time!
Oxygen concentrators borrowing service
Borrow it for your home,
health post or even hospital
Borrowing Service
HELP US SPREAD THE WORD
Please help us find the people who need this service.

Please help us by spreading the word. Kindly share this webpage in all your social media sites.
Please help us find isolation centers that might have patients that need oxygen and might want to borrow the Oxygen Concentrators.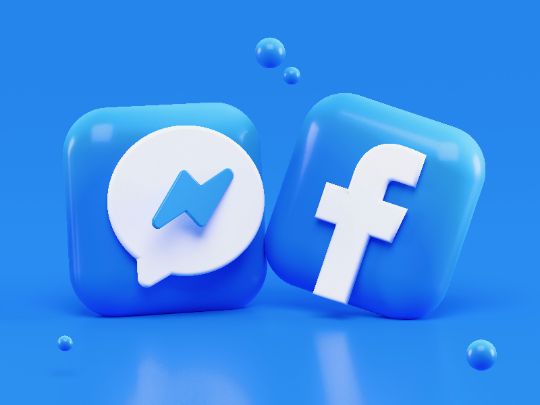 What is the PROBLEM we are trying to solve?
Nepal's demand for oxygen cylinders shot up to 50,000 per day during the peak of the second wave in May, with the country's oxygen factories and hospitals only able to fill 19,000 cylinders every day. In contrast, pre-wave calculations had suggested that peak daily demand would only be about 6,000 cylinders.

Source: Nepali Times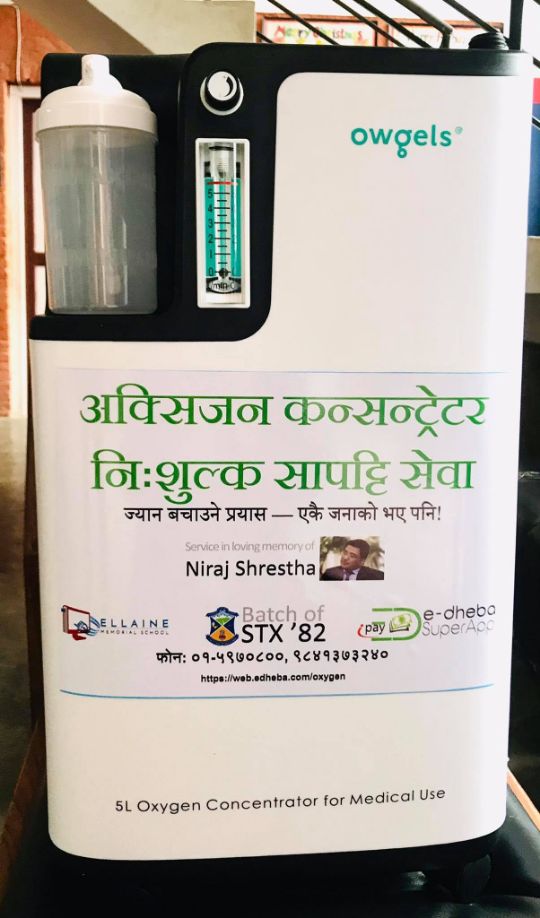 What is an oxygen concentrator? Why are they in demand?
An oxygen concentrator is a medical device that concentrates oxygen from ambient air. Atmospheric air has about 78 per cent nitrogen and 21 per cent oxygen, with other gases making up the remaining 1 per cent.The oxygen concentrator takes in this air, filters it through a sieve, releases the nitrogen back into the air, and works on the remaining oxygen.
It's only a little bigger than a computer monitor, yet as cases surge and with oxygen cylinders in short supply across several countries including India and Nepal, the concentrator is among the most sought after devices for oxygen therapy, especially among patients in home isolation and for hospitals running out of oxygen.

Source: The Indian Express
What is this service?
Due to the recent COVID-19 Pandemic, these oxygen concentrators are part of a humanitarian community service with the mission of helping to save lives - one at a time. Since these concentrators are expensive, ranging from 85,000-200,000 NPR, through this initiative, we hope to help those in dire need and those who can't afford to buy one. You can now simply borrow these life-saving machines.
These concentrators are available for anyone who needs it and who can physically come and collect from our collection center at Sitapaila, Nepal. These are the only two criteria -simple! However, once the patient is done using it, please do safely return it to our collection center at Sitapaila so that it can be circulated to others who need it.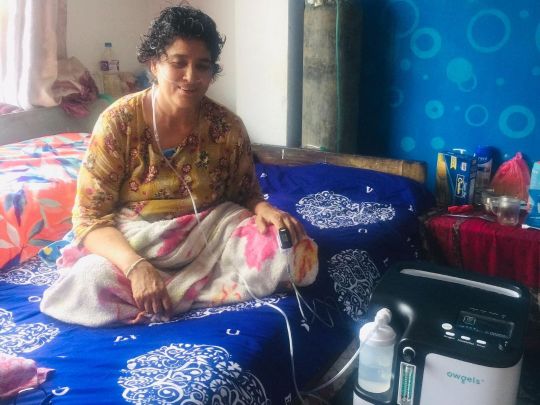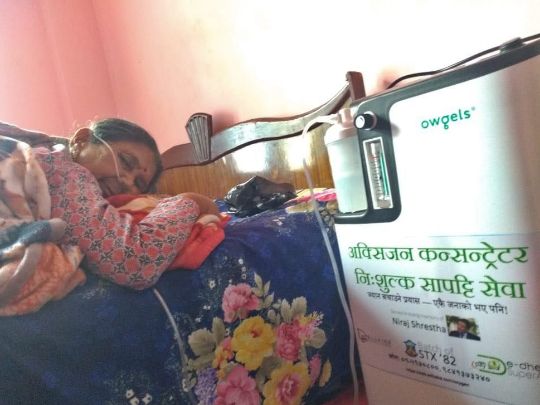 Who can borrow it?
These concentrators can be borrowed by anyone at free of cost (thanks to the generous supporters, refer bottom of the page for details). However, because wewant to ensure that these concentrators go to the needy patients, we have a few checks in place to ensure that it does not get misused by the greedy nor stored at home simply as backup. For this, we ask for the following documents:
1. Doctor's prescription for oxygen or other documents to prove that the oxygen supply is needed for the patient.
2. Copy of the citizenship certificate
3. A post-dated check of after 3 months to cover the costs of the oxygen concentrator NPR 175,000 which will be returned when the oxygen concentrator is returned in safe and in good condition.
When should you book it?
Only book these concentrators if the doctor has prescribed it and if your oxygen saturation level is lower than normal.
Many of our beneficiaries' patients are going to be discharged soon from intensive care of hospitals and fear that they might need oxygen at home when their oxygen saturation is lower than normal levels. Please let us know as soon as possible so that we can make these Oxygen Concentrators available.
We have limited oxygen concentrators available so we need to ensure that it is returned on time from existing borrowers and given to new borrowers.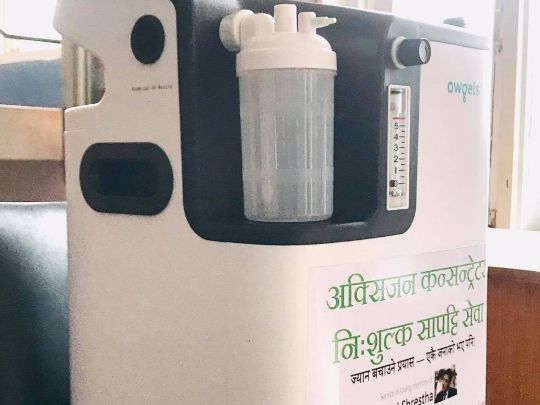 Service Recipient
The following people borrowed Oxygen Concentrators
Age Breakdown
Age breakdown of the beneficiaries who have borrowed Oxygen Concentrators are as follows
Gender Distribution
The gender of the patients who have borrowed Oxygen Concentrator are as follows
Testimonials
Here is what families of the beneficiaries are saying about our service
In this crucial time, your organisation has made a huge impact by providing borrowing service of oxygen concentrator for needy person for saving life Saving one life is like saving a whole humanity, Hats off to your dedication towards community.

I am Ujjwol Shakya, my mother had been infected from COVID on jestha 12 th 2078. After few days, she had pneumonia symptoms and hospitalised for 2 weeks. Before they discharge her, because of her low oxygen saturation results they adviced us to arrange oxygen support at home.
On searching, luckily I found your school founder members had already initiated steps for this nobel cause. So I collected 1 oxygen concentrator from your source.
I would like to thank you all from all of my family members, for supporting us on this difficult situation of life.
Really appreciated 🙏 your steps for helping people of our country, which had to be done by the nation.

Thank you so much sir for your prominent service and help to our patient, we are so thankful to you and your social service movement, we received this concentrator at morning and now we are operating it. Hats off to service in loving memory of Niraj Shrestha.

Her oxygen level was not controlled it was dropped to 80 cylinder was kept but it was hard yet again to fill, they had only 2 hours to organise another cylinder and they aren't able to manage somehow alien sir and his team handed over concentrator which saves one life.

Today, her oxygen saturation level is normal


REQUEST SERVICE
right now!
Please fill this form. We will then check to judge whether you qualify or not. If you qualify, you will get a call or a SMS from us.

oxygen concentrators - saving one life at a time
Kindly download the app now
You can also book
from the app
You can now download e-dheba SuperApp and book the oxygen concentrator from the app itself. Kindly go to Super Services -> Medical shop -> Oxygen Concentrator and borrow the oxygen concentrator from the app itself FREE OF COST.
Do more with the app
Once you have downloaded the app, you can also look at what else you can benefit from with eDheba SuperApp.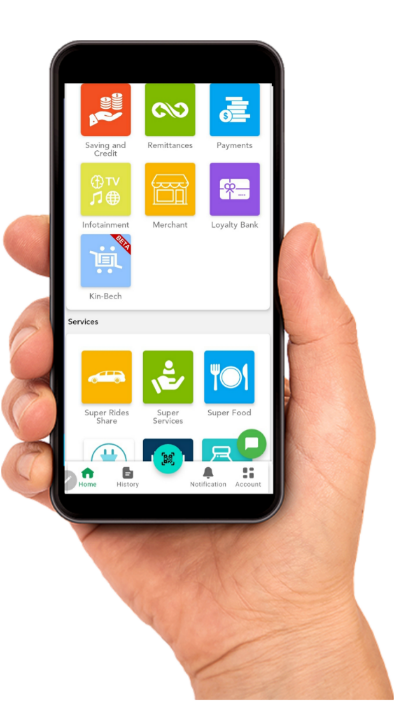 Application Form to Borrow Oxygen Concentrator
You will need to fill this and sign it to borrow Oxygen Concentrator
Income & Expenses Statement
We had initially provided all the oxygen concentrators free to the beneficiaries, but very soon we saw the reluctance of some of the beneficiaries to return the concentrators back and were just holding unto the concentrators even when they were not using it, since it was free of costs.
To discourage such hoarding and holding up these oxygen concentrators which could benefit another patient in need, we have started to charge NPR 199 for 5l concentrators and NPR 299 for 10l concentrators. We will only use this small income for repair and maintenance of the concentrators and if possible to buy more concentrators.
We will detail all the income and expenses from this income here in this site for transparency and accountability's sake.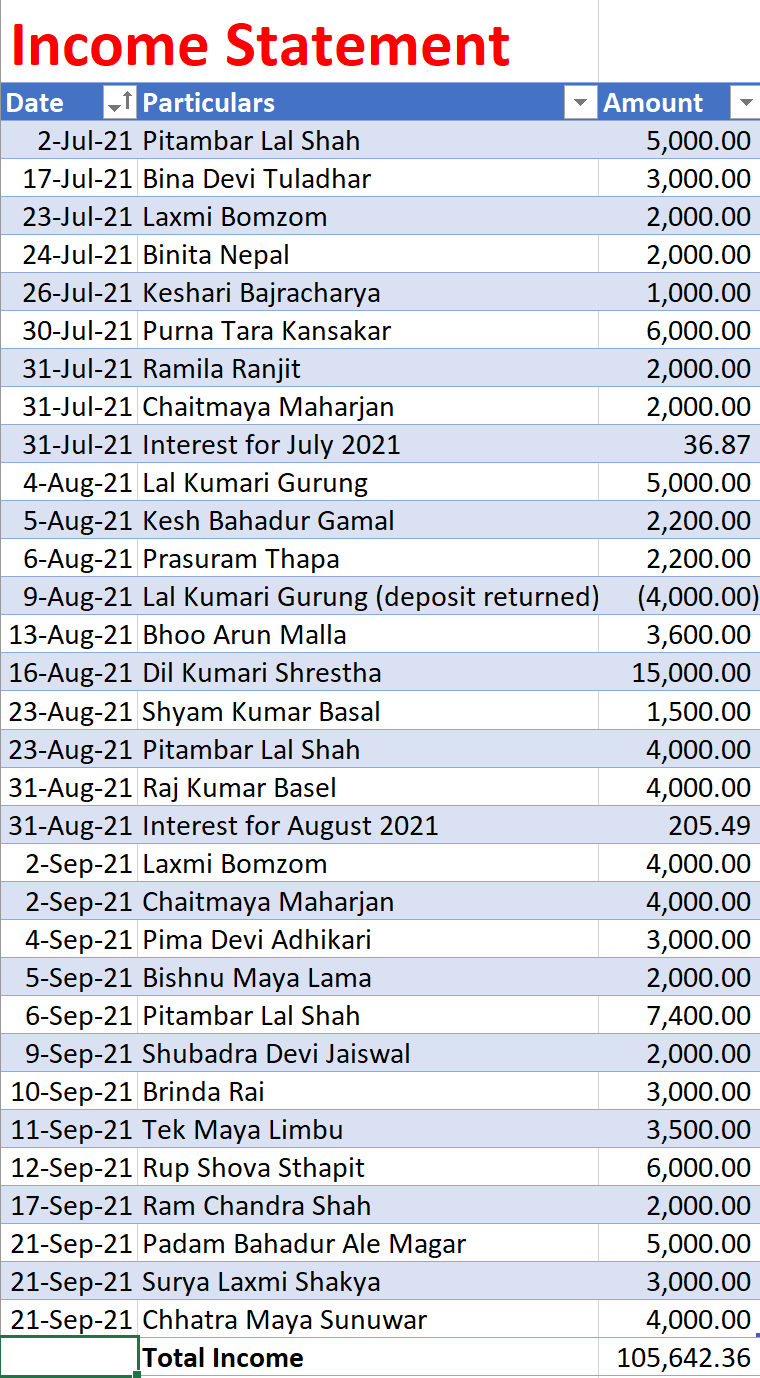 Posters in Hospitals
We are promoting this service
Our volunteers have been placing posters in various hospital and health care facilities
In The News
The Media has helped to spread the word about our initiative
Address
Ellaine Memorial School
Nagarjun-5, Sitapaila, Kathmandu District, Bagmati Province, Nepal
Business hours
Everyday 9:00 am - 10:00 pm with appointment and prior information
Call for supporters
If you want to support this cause
by making a donation in either monetary terms or equipment,
please email us at
info@edheba.com
or call us at
+977-1-5970800.